---
The 42 Form (Competition Form) t'ai chi ch'uan is the standard Wushu competition form which combines movements drawn from the Chen, Yang, Wu, and Sun styles of traditional T'ai chi ch'uan (Taijiquan).
It was created in 1989 by grandmaster Li De Yin for the Chinese Sports Committee. The 42-form has been subjected to criticism for being a hybrid form, but in actual practice it has received a lot of positive attention as well, for being a challenging, fluid form which loads the body with energy (qi). There is more information available on the Tai Chi for Health Institute website.
An illustrated PDF of the 42 Form has been produced by taiji.de.
Today it is a popular form for competition as well as for personal health benefits. At the 11th Asian Games of 1990, Wushu was included as an item for competition for the first time with the 42 Form being chosen to represent Tai Chi.
The movements are:
01. Commencing form
02. Grasp the bird's tail (right)
03. Single whip (left)
04. Lift hands
05. White crane spreads its wings
06. Brush knee and twist step on both sides
07. Strike with fist
08. Roll-back and press on both sides
09. Deflect down, parry and punch
10. Apparent close-up
11. Open and close hands
12. Single whip (right)
13. Punch under elbow
14. Turn body and push palm on both sides
15. Fair lady works the shuttles on both sides
16. Kick with heel on both sides
17. Cover hands and punch
18. Part the wild horse's mane on both sides
19. Wave hands like clouds
20. Step back and beat the tiger
21. Separate legs (right)
22. Strike opponent's ears with both fists
23. Separate legs (left)
24. Turn body and slap foot
25. Step forward and punch downward
26. Oblique flying
27. Snake creeps to the right
28. Golden rooster stands on one leg (right and left)
29. Step back and thrust palm
30. Press palm in empty stance
31. Hold palm up and stand on one leg
32. Lean with body in horse stance
33. Turn body for large roll back
34. Grab and punch in resting step
35. Thread palm and push down
36. Step forward to seven-star posture
37. Mount the tiger and stand on one leg
38. Turn body with lotus kick
39. Bend the bow to shoot the tiger
40. Grasp the peacock's tail (left)
41. Cross hands
42. Closing form
---

William Tsai - 42 Form - Rear View

Miss Ng Ah Mui - 42 Form - Front View
---
The following links are to Youtube demonstrations of the 1st and 2nd sections by Miss Ng Ah Mui: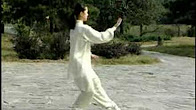 Tai Chi 42 Forms Part 1 - Demo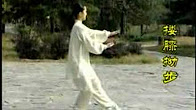 Tai Chi 42 Forms Part 1 - Teach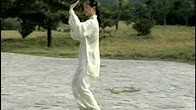 Tai Chi 42 Forms Part 2 - Demo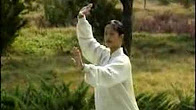 Tai Chi 42 Forms Part 2 - Teach
---
Gao Jaimin - 42 Form