---
Ric Bolzan 17 September 2021.
With the arrival of Covid-19 and the requirements to maintain social distancing, "live" classes have been seriously effected, and many teaching professionals have moved online. The application of choice has been Zoom, but how does an online class compare with a live class - for the instructor and participants?
Presenting Qigong and Tai Chi Quan classes online is more akin to a lecture rather than a tutorial, therefore it cannot be run in the same way as a live class. Online classes cannot achieve the "immersion" of live classes because of both the physical and emotional distance between instructor and participants and the difficulty of "reading" the movements of all participants.
If it is a small group, up to 8 participants, it is possible to view and correct the participants so a degree of teaching complex movements and/or routines is possible. However, with larger groups it is preferable to conduct it more as practice where the participants follow the instructor. Teaching small sections or spending time focusing on details can then be introduced to relieve the monotony of repeated practice and improve the skills of the participants.
I highly recommend that you use an assistant (who could be in a separate location) to manage the technical aspects of running the class so that you can maintain your focus on presentation and teaching, and engage with the participants. The second person would coordinate the online process: bookings, payments (if applicable), attendance, muting when required, handling chat and questions, etc. The assistant could be a participant who spends the time before the class to coordinate the login process for participants.
If you try to run everything alone, you should allow sufficient time before the class to manage the login process, starting the "meeting" at least 10 minutes before the actual start time.
CLASS STRUCTURE
The class structure will be determined by the following criteria:
Will you be running the classes alone or with an assistant (strongly recommended).
Will the classes be free or for payment, and if so how will the payments be managed.
What are the aims of the class and will you try to achieve - be realistic.

Small class: feedback, demo and watch participants.
Large class: Balance between teaching and practice, repetition vs introduction of new elements.

Will the class be aimed at regulars or new participants, or a combination of both.
Will you allow feedback and questions during the class, between sections, or at the end.
PLANNING

Prepare a schedule for the classes (say 4-6 weeks ahead) and lesson plans for what you hope to achieve in each class.
Determine the balance between repetition and introduction of new elements.
Determine the balance between teaching and practice.
Regulars and new participants - requires some compromise, focus on the regulars but accommodate new ones.
INITIAL SETUP

Zoom - familiarize yourself with the Zoom application and settings, use the excellent Youtube tutorials.
Internet and Network - check that you have sufficient capacity for live streaming - consider manually connecting your laptop to the router.
Consider a separate keyboard and mouse so you can operate the computer from a distance.
Consider a separate large screen so that you can more clearly see yourself and the participants.
Select the best camera position, preferably at head-height aimed slightly downwards to show your feet.
Select a space and background with the minimum of distractions with sufficient width and depth to accommodate your movements to the side, forward & back.
Clothing - wear clothing that contrasts against the background and also clearly shows your movements. Loose flowing clothing is good for practice but inappropriate for participants watching you on a small screen.
Signs - place LEFT and RIGHT signs on the walls, especially if you use mirroring.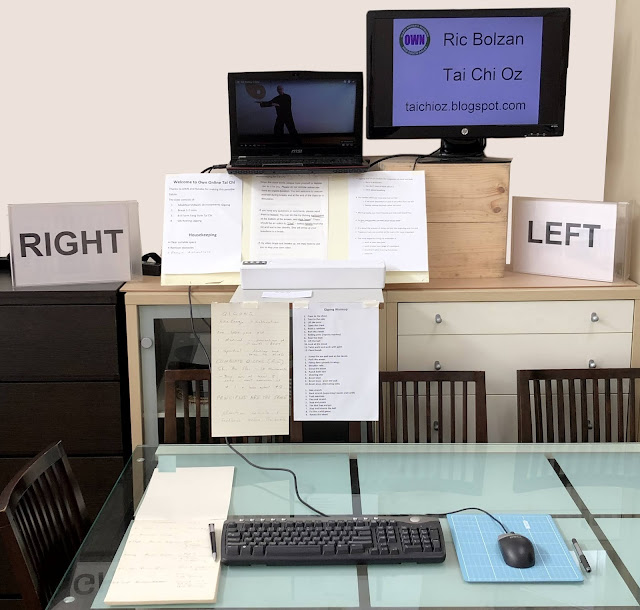 Sample setup for Zoom presentation showing laptop/camera location, separate keyboard and mouse controls, second monitor, presentation notes, lesson plan, Right and Left signs for mirroring.
CLASS PREPARATION
Before the class starts, spend some time on preparation:
Technical:

Internet and Network - test and ensure the connections are in place and stable
Restart your presentation computer to maximize its operational capacity
Prepare any "share screen" material such as signs, notices, videos, etc
Use the Zoom settings to test the audio and video
Test your background music or audio instructions if applicable
Prepare and test any "share screen" content such as presentations and/or videos
Physical:

Clear the workspace
Adjust lighting, etc
Have your notes, prompts key statements easily visible
Mental:

Be prepared - review your lesson plan, notes, key statements, activities
Minimise distractions, turn off your phone and anything that may make noise
CLASS PRESENTATION

Introduction - welcome, housekeeping, outline what will be covered.
Practice - stick to the plan, maintain flow, talk & do, keep participants engaged.
Monitoring - unless necessary, avoid watching participants too closely, this can easily disrupt your train of thought.
Finish - allow time for a cool-down and a Q&A session.